Regular price
Sale price
$13.99 USD
Unit price
per
Sale
Sold out
Glucosamine plus Shark Cartilage
Discover our supplement blend of Glucosamine Sulfate and Chondroitin, compounds that play an integral role in the maintenance and repair of joint cartilage and connective tissue. These substances, naturally occurring in the body, are vital for the formation and ongoing health of your joints. Glucosamine Sulfate is a component of the body's 'cushioning' between joints, helping to maintain healthy, flexible joint movement. Its role in stimulating the production of cartilage is invaluable, especially as the body's natural production of glucosamine can decrease with age. Chondroitin, on the other hand, is a building block of cartilage and helps to retain water, ensuring our joints stay lubricated and resilient. By supporting the repair of connective tissues and potentially slowing the breakdown of joint cartilage, Chondroitin complements the action of Glucosamine Sulfate, making these two a formidable pair for joint health. Together, these compounds may aid in maintaining overall joint health and mobility, and may be particularly beneficial for those seeking to support their joints due to aging, physical activity, or other lifestyle factors. Remember, it's crucial to consult with a healthcare provider before beginning any supplement regimen. This product should be used as a part of a balanced diet and active lifestyle. These statements have not been evaluated by the FDA. This product is not intended to diagnose, treat, cure, or prevent any disease.
Descubra nuestra mezcla de suplementos de sulfato de glucosamina y condroitina, compuestos que desempeñan un papel integral en el mantenimiento y la reparación del cartílago articular y el tejido conjuntivo. Estas sustancias, presentes de forma natural en el organismo, son vitales para la formación y la salud continua de sus articulaciones.
El sulfato de glucosamina es un componente de la "amortiguación" del organismo entre las articulaciones, que ayuda a mantener un movimiento articular sano y flexible. Su papel en la estimulación de la producción de cartílago es inestimable, sobre todo porque la producción natural de glucosamina del organismo puede disminuir con la edad.
La condroitina, por su parte, es uno de los componentes básicos del cartílago y ayuda a retener el agua, garantizando la lubricación y elasticidad de las articulaciones. Al contribuir a la reparación de los tejidos conjuntivos y frenar potencialmente la degradación del cartílago articular, la condroitina complementa la acción del sulfato de glucosamina, convirtiéndolos en una pareja formidable para la salud de las articulaciones.
Juntos, estos compuestos pueden ayudar a mantener la salud general de las articulaciones y la movilidad, y pueden ser particularmente beneficiosos para aquellos que buscan apoyar sus articulaciones debido al envejecimiento, la actividad física, u otros factores de estilo de vida.
Recuerde que es fundamental consultar con un profesional de la salud antes de comenzar cualquier régimen de suplementos. Este producto debe utilizarse como parte de una dieta equilibrada y un estilo de vida activo. Estas afirmaciones no han sido evaluadas por la FDA. Este producto no está destinado a diagnosticar, tratar, curar o prevenir ninguna enfermedad.
Share
View full details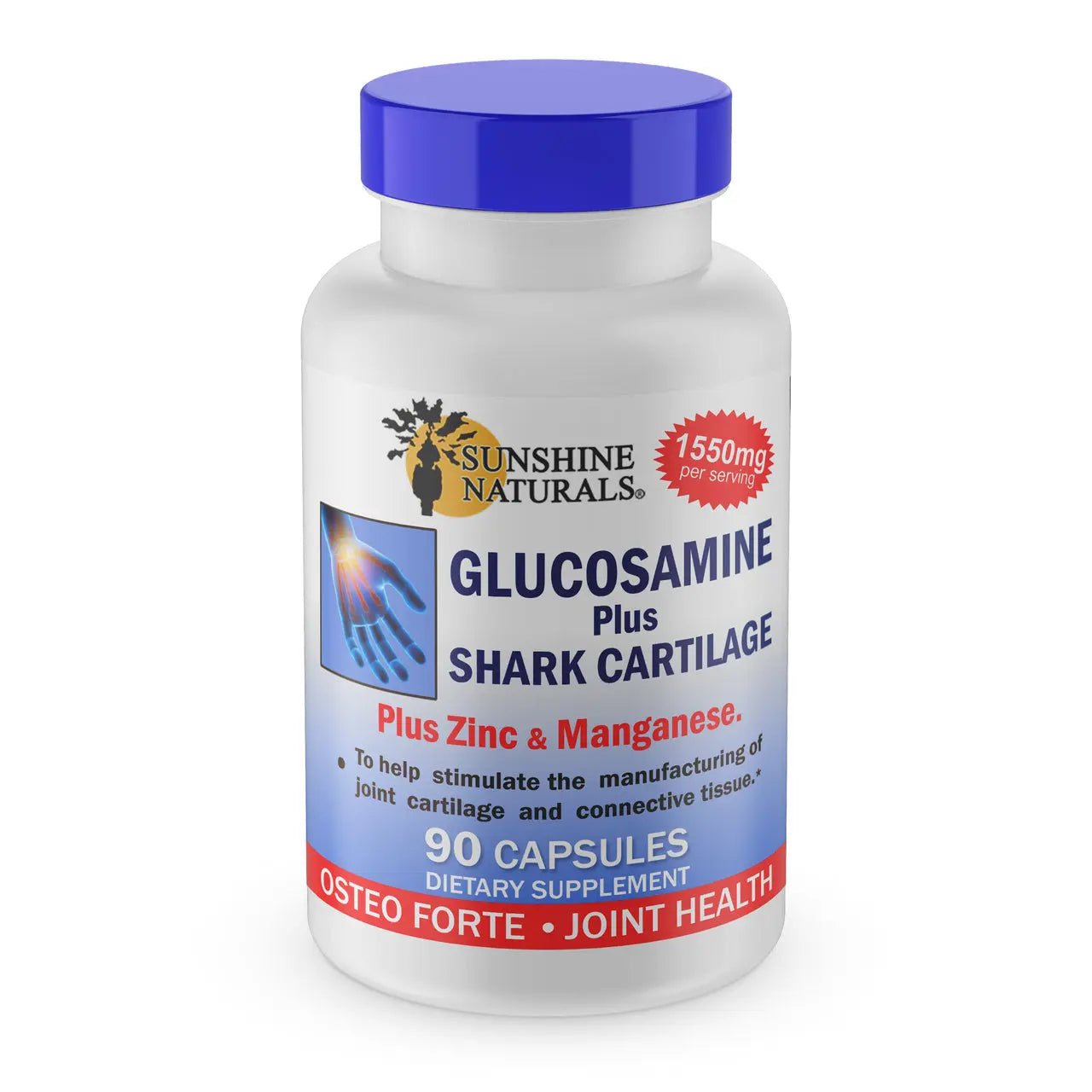 FREE SHIPPING on orders over $25 USD.

All orders over $25 qualify for FREE SHIPPING to a US address.

Use code SUNSHINE at checkout.

Hassle-Free 30 Day Returns

Returns are accepted within 30 days of the order ship date.